| | |
| --- | --- |
| [STEAMPUNK STYLE]当社掲載記事です。 | 18:37 |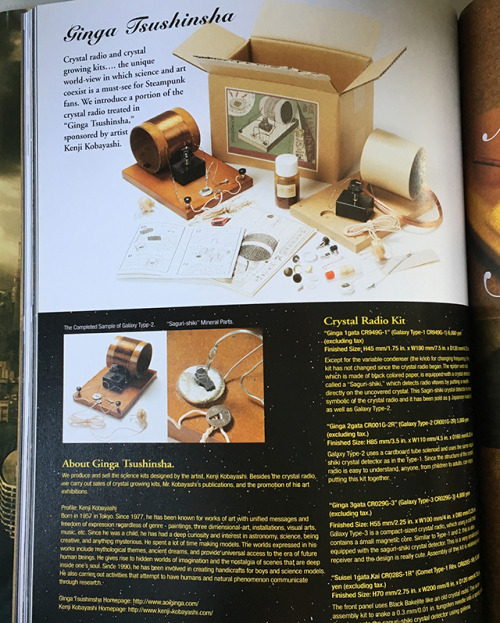 Ginga Tsushinsha
Crystal radio and Crystal growing kits…
the unique world-view in which science and art coexist is a must-see for Steampunk fans. We introduce a portion of the crystal radio treated in "Ginga Tsushinsha" sponsored by artist Kenji Kobayashi.
About Ginga Tsushinsha.
We produce and sell the science kits designed by the artist Kenji Kobayashi. Besides the crystal radio.
We carry out sales of crystal growing kits, Mr.Kobayashi's publications and the promotion of his art exhibitions.
Profile: Kenji Kobayashi
Born in 1957 in Tokyo. Since 1977 he has been known for works of art with unified messages and freedom of expression regardless of genre-paintings, three dimensional-art, installations, visual arts, music, etc.
Since he was a child, he has had a deep curiously and interest in astronomy, science, being creative, and anything mysterious.
He spent a lot of time making models. The worlds expressed in his works include mythological themes, ancient dreams, and provide universal access to the era of future human beings.
He gives rise to hidden worlds of imagination and the nostalgia of scenes that are deep inside one's soul.
Since 1990, he has been involved in creating handcrafts for boys and science models.
He also carries out activities that attempt to have humans and natural phenomenon communicate through research.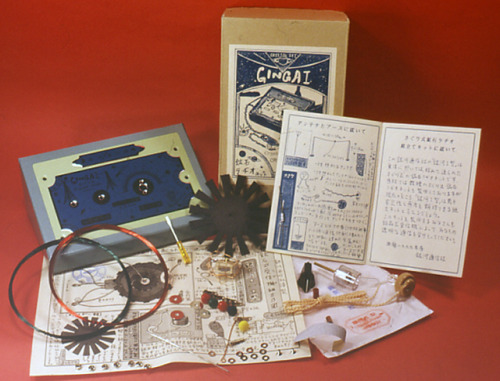 Crystal Radio Kit
"Ginga 1(Galaxy Type-1)
Finished size:H45mm/1.75in. x W190mm/7.5in. x D120mm/4.75in.
except for the variable condenser(the knob for changing frequency), this kit has not changed since the crystal radio begin. The spider web coil which is made of black colored paper is equipped with a crystal detector called a "Saguri-shiki" which detects radio waves by putting a needle directly on the uncovered crystal. This saguri-shiki crystal detector is most symbolic of the crystal radio and it has been sold as a Japanese made kit as well as Galaxy Type-2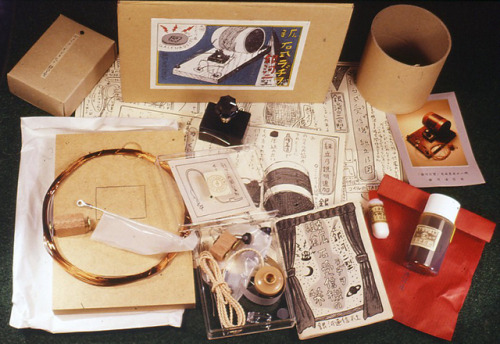 "Ginga 2(Galaxy Type-2)"
Finished Size: H55mm/2.25in. x W110mm/4.5in. x D160mm/6.25in.
Galaxy Type-2 uses a cardboard tube solenoid and uses the same saguri-shiki crystal detector as in the Type-1. Since the structure the crystal radio is easy to understand anyone from children to adults, can enjoy putting this kit together.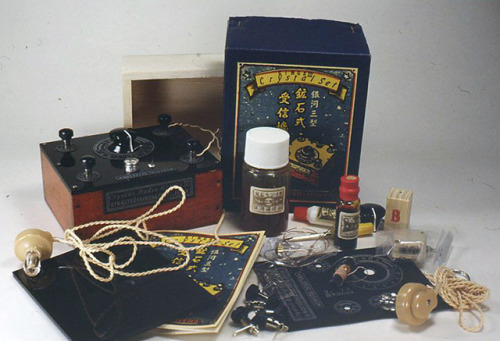 "Ginga 3(Galaxy Type-3)"
Finished size: H55mm/2.25in. x W100mm/4in. x D80mm/3.25in.
Galaxy type-3 is a compact-sized crystal radio, which uses a coil that contains a small magnetic core. Similar to Type-1 and Type-2, this is also equipped with the saguri-shiki crystal detector. This is a very small crystal receiver and the design is really cute. Assembly of this kit is relatively easy.
*"Saguri-shiki"―― "Cat whisker"
from the article of the magazine "STEAMPUNK STYLE"
Edited by Steampunk Oriental Laboratory, published by TITAN BOOKS.
reblog:kenjichannel.tumblr.com
保存保存